AND FOR THE WHITE ONE HOW ?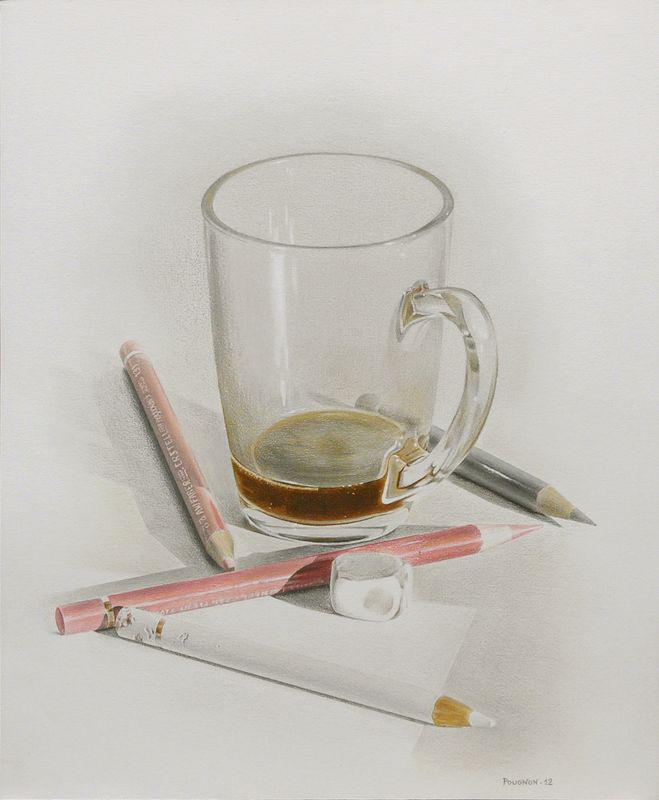 The colored pencil is like watercolor, the white comes from the color of the paper. In other words, if there are areas that should be white, simply do not color them. I sometimes use the gum or razor blade, to erase and retrieve the "white" of the paper, with the disadvantages mentioned previously.
The white colored pencil just lightly clears a surface, but nothing spectacular, and often disappointing.
In the table "Cup and pencils", the sheet has been grayed almost entirely. Only 3 zones remained blank:
- the reflection on the cup
- the tip of the white pencil
- a slight border on the leaf
Everything else has been darkened.

The difficulty of this exercise was to represent supposedly white objects (such as the gum, the white pencil and the sheet on which these two objects are placed). Now the Canson paper (with a relief that causes me a lot of problems) used for this painting is not really white, it pulls towards the yellow. To convince yourself, put a sheet A4 printer on a sheet Canson, you will see to point the difference in clarity is enormous.
So all the work here consisted of gauging the model, evaluating what is "clearer than ..." and what is "darker than ...", knowing that everything is relative in painting as in drawing when " One evokes the contrast and the luminosity.